Concerning safety PPE footwear users (directive 89/656 du 30.11.1989)
Obligations are fixed in the PPE users" Directive 89/656 dated 30.11.1989 and the associated texts.
Employers shall implement all collective means to protect employees.
PPE provides protection against residual risks. The employer ensures that PPE is appropriate for the risks, in collaboration with the various internal committees of the company.
They provide personal protective equipment free of charge and conforming to the legal requirements, i.e.:
CE marked ;
with user information attached to each pair of footwear ;
with a declaration of conformity given to the user during the purchase phase.
CE marking type examination :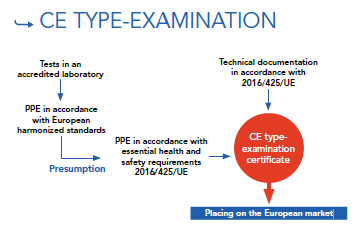 Concerning safety footwear PPE manufacturers ("PPE design" Regulation 2016/425/UE).
CE marking is based on the following texts: "PPE design" Regulation 2016/425/UE. Manufacturers must place a PPE footwear on the market that comply with the essential requirements of European Regulation 2016/425/EU.
For this purpose, they are required to:
1- Characterize the level of risks against which their PPE footwear will protect its user. It will define the certification rules (see A) .
2- Define all risks precisely. It will set all necessary standards during the certification process (see B) .
3- The manufacturer will choose his Notified Body, CTC.
Most PPE footwear (see C) are in category II.
For category III PPE footwear, an annual control system must be defined (module C2 with CTC or module D with another Notified Body).
4- The manufacturer shall send to the Notified Body a technical file containing:
5- Once the Notified Body has issued an UE type-examination certificate number, the manufacturer shall:
issues its declaration of conformity ;
affixes the CE marking to its production;
can sell his PPE shoe anywhere in the European Union and in many other countries;
remain at the disposal of the market supervisory authorities;
performs annual production monitoring for category III shoes.
A - Characterize the product "PPE safety footwear" / Define the risks
Certification rules for PPE - safety Footwear
Certification rules
Category I
Category II
Category III
CLASSIFICATION
Minor risks
Other risks
Lethal or irreversible risks
EXEMPLES

Boot for climate risk

Footwear for mechanical risks

Footwear for chemical risks

OBLIGATIONS OF THE MANUFACTURER

Propose and publish a technical file on the product (including a user notice)
Undertake tests to guarantee homogeneity of his product
Produce a declaration of conformity
Mark the product with the CE

Category I

+

Obtain a CE type-examination certificate from a Notified Body as CTC

Category II

+

Choose a Notified Body to monitor annually the production process (C2 or D procedure)

Affix the number of the Notified Body on the marking
B - Choose the PPE footwear standard(s)
| | |
| --- | --- |
| ASTM F2413 | Performance Requirements for Protective (Safety) Toe Cap Footwear |
| ISO 11393-3 | Protective clothing for users of hand-held chain-saws - Part 3: Test methods for footwear |
| ​EN ISO 13287 | Footwear - Test method for slip resistance |
| EN 13634 | Protective footwear for professional motorcycle riders - Requirements and test methods |
| ​EN 13832-2 | Footwear protecting against chemicals - Part 2: requirement for footwear resistant to chemicals under laboratory conditions |
| EN 13832-3 | Footwear protecting against chemicals - Part 3: requirement for footwear highly resistant to chemicals under laboratory conditions |
| EN 15090 | Footwear for fire-fighters |
| EN ISO 17249 | Safety footwear resistant to chain saw cutting |
| ISO/TR 18690 | Guidance for use, selection and maintenance of safety, protective and occupational footwear |
| ​EN ISO 20344 | PPE - Test method for footwear |
| ​EN ISO 20345 | PPE - Safety footwear |
| EN ISO 20346 | PPE - Protective footwear |
| ​EN ISO 20347 | PPE - Occupational footwear |
| EN 20349 | Personal protective equipment - Footwear protecting against risks in foundries and welding |
| EN ISO 22568 | (part 1 to 4) - Requirements and test method for toe cap and perforation resistant insert |
| EN 50321-1 | Electrically insulated footwear for live working on low-voltage Installations |
C - Choose your Notified Body
Since 1992, CTC is one of the earliest Notified Bodies for PPE with number 0075. We have issued more than 35,000 CE certificates for safety footwear, protective gloves and protective garments. The skill for testing and certification is guaranteed by the ISO 17025 and ISO 17065 accreditation.
The professionalism and the accuracy of our physical and technical tests help our customers to produce the safest footwear and glove product. We test and certify at the same time, so you save time.
CTC has a large experience of the innocuousness testing in materials and products. The European legislation is the most severe legislation in the world. CTC will help you to define the right critical substances to test. The integration of safety requirements will enable you to guarantee the conformity of the products according to Annex XVII of REACh.
CTC is Convenor or member for the mains standardization technical committees for glove, footwear and garment.
CTC Shanghai and CTC Dongguan Laboratories are accredited by CNAS

CTC Shanghai : CNAS L4577

CTC Dongguan : CNAS L5912

CTC Asia Laboratories in Hong Kong are accredited by HKAS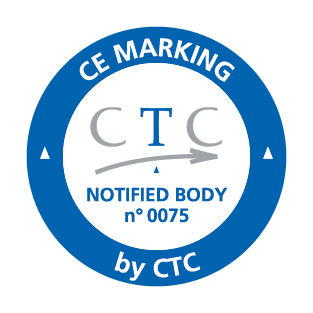 NEED ASSISTANCE ? CONTACT US !
D – Footwear and boots CE marking system
Whether the article is for safety, protective or occupational purposes, all shoes or boots marked CE guarantee a high level of comfort and durability established on the basis of the following standards:
EN ISO 20345

with a 200 J toecap

EN ISO 20346

with a 100 J toecap

EN ISO 20347 without toecap but with other standardized safety elements

SHOES

S1 :

closed seat

antistatic property

heel energy absorption

resistance to fuel oil

S2 : S1 +

S3 : S2 +

anti-perforation sole

cleated sole

SHOES

P1 :

closed seat
antistatic property
heel energy absorption
resistance to fuel oil

P2 : P1 +

P3 : P2 +

anti-perforation sole
cleated sole

SHOES

O1 :

closed seat

antistatic property

heel energy absorption

O2 : O1 +

O3 : O2 +

anti-perforation sole

cleated sole

BOOTS

S4 : same as S1

S5 : same as S3

BOOTS

P4 : same as P1

P5 : same as P3

BOOTS

O4 : same as O1

O5 : same as O3
Other characteristics, also standardized, can be used alone or with the basic requirements of the products (see above) and are defined as:
P: anti-penetration sole
C: conductive shoe or boot
A: antistatic shoe or boot
HI: heat insulation
WR: water-resistant footwear
SRA: slip resistance on ceramic tile floor with NaLS
SRB: Slip resistance on steel floor with glycerol
SRC: slip resistance on ceramic tile floor with NaLS and on steel floor with glycerol
CI: cold insulation
E: heel energy absorption
WRU: water-resistant upper material
HRO: resistance to hot contact
M: metatarsal protection
AN: ankle protection
PPE safety footwear design