Evaluate the performance, safety and quality of your products (footwear, garment and leather goods).
Today, a significant amount of footwear, leather goods, fashion accessories and clothing are produced around the world. It is not always easy to be able to assess the quality or resistance of the materials used or the assemblies of the different materials. At CTC, we are able to provide you accurate information on these topics using our physical testing labs in Vietnam, China and France. We also have different working environments: for leather-related tests the laboratory temperature is 23 ° C and 50% humidity. The textile and clothing test laboratory is at 20 ° C and 65% humidity.
We use standardized methods and also methods developed in-house. These were used, for example, for calls for tenders for military equipment or customer specifications.
CTC's physical testing laboratories provide you with relevant information on the characteristics of the materials or finished products resulting from your manufacturing or your sourcing policy. Do you know exactly the quality of the materials you buy to transform them into shoes, clothing or leather goods and fashion accessories?
Physical and physico-mechanical testing laboratory
Our physical and physico-mechanical testing laboratories
We test your consumer goods and PPE (personal protective equipment) products.
The objectives of these tests are, of course, quite different. On the one hand, we have tests that will ensure the longevity of your products or their resistance to wear for consumer goods. And on the other hand, we offer tests that will allow you to certify your PPE. The tests are carried out in a normative way or, if no standard exists, according to CTC methods that we have developed in-house and with the experience that we have accumulated over the years.
Laboratory tests on consumer goods: (shoes, apparels, gloves and leather goods).
We test different types of articles:
Shoes: man, woman, child, city, sport, slipper.
Leather goods: handbag, suitcase, luggage ...
Accessories: belt, lace ...
Gloves
Clothing: textiles, leather, clothing ...
Physical tests on PPE (personal protective equipment):
Regarding PPE, our normative tests are suitable for products such as:
Safety or protective shoe
Protective glove
Motorcycle product: Boots, gloves, apparels.
Lumberjack product: shoes, gloves, clothing.
Domestic equipment: heat and fire-resistant gloves.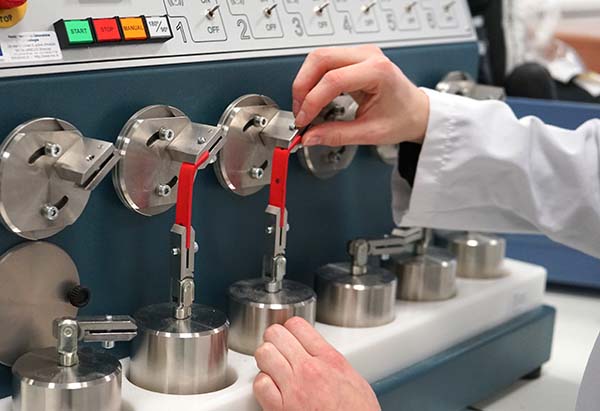 Physical test on leather
Season review "tests and physical trials"
For a complete support in your quality approach, CTC includes:
Support in the development of specifications,
Monitoring of "test" KPIs (Key performance Indicators),
Analysis of lists of faults & their criticalities,
CTC recommendations for improving the quality of your orders.
Whether it is clothing, shoes, leather goods or gloves, CTC will guide you through the variety of tests to define the specifications most suited to your product until its marketing, in order to ensure your customers an optimum quality / price ratio. CTC offers a panel of more than 300 different tests and carried out, in 2019, more than 195,000 physical tests. CTC France has produced 34,000 of them.
Contact us for more information
Physical laboratory tests to assess the resistance of materials of your shoes, luggages and clothes.
Our various tests from our physics laboratory will allow you to have objective feedback on the quality of your materials but also on their longevity and dangerousness.
Whether it is tear resistance, flexibility, resistance to humidity or abrasion tests, our various techniques and physical scenarios will reveal to you what are the strengths and weaknesses of clothing, shoes or leather goods accessories that you produce.
Physical testing laboratories, a specialty.
CTC laboratories, accredited according to ISO 17025, are dedicated to clothing and accessories for fashion, luxury, sport and Personal Protective Equipment. They are ideally located in manufacturing areas in Europe, China, Bangladesh, Vietnam, Tunisia...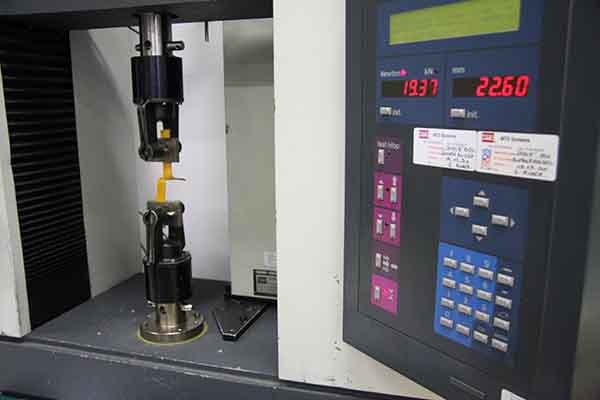 We systematically operate our physical tests, the objective being to push these scenarios to the breaking point in order to know precisely the strength values of your materials.
From the sole to the lace through the upper, from the straps at the bottom to the lining, you will know the exact resistance of your shoes and fashion accessories so you will minimize the risks of after-sales services. Claims or returns from customers are a definite loss in the leather and clothing industry.
Physical test on footwear, textiles or clothing, physical test in leather goods and Luggages.
To evaluate the performance of the product, its comfort, its safety and its quality (resistance to slipping, abrasion, permeability, flexion, heel impact, etc.).
To determine the interactions between the user and the final product (internal pressure, cushioning, breathable foot, heel compression, etc.)
Use test to assess the performance of the product in a real situation (field trials, consumer panel, etc.).
Physical tests in leather goods : Custom tests on robotic arm
From the prototype design stage, CTC created quality tests to simulate wear using a robotic arm. This robotic arm reproduces the same movements and efforts that an average user applies to the product during actual use. These tests will therefore make it possible to wear the products in the same way as a under usage conditions, in order to discriminate certain types of assemblies, materials, reinforcements used or even assembly design or metal parts facing a given use.
This use can also be defined and digitized on a classic wearer, to be faithfully transmitted to the robotic arm via our biomechanical platform "Living lab", unique for this type of product.
There are now around forty different test methods, simulating any type of use on leather goods, whether on an entire product or on a component. Other classic tests are available at CTC's physical testing laboratory.
For any specific request, contact CTC's technological innovation department, so that we can study your problem and agree together on the appropriate method for testing your product.
Entrust your physical tests to CTC
Submit your request via the form