Laboratory services : Set-Up, Laboratory Audit, calibration and training
CTC has over 30 years of experience in physical and mechanical, chemical and environmental testing as well as in quality management for accredited laboratories.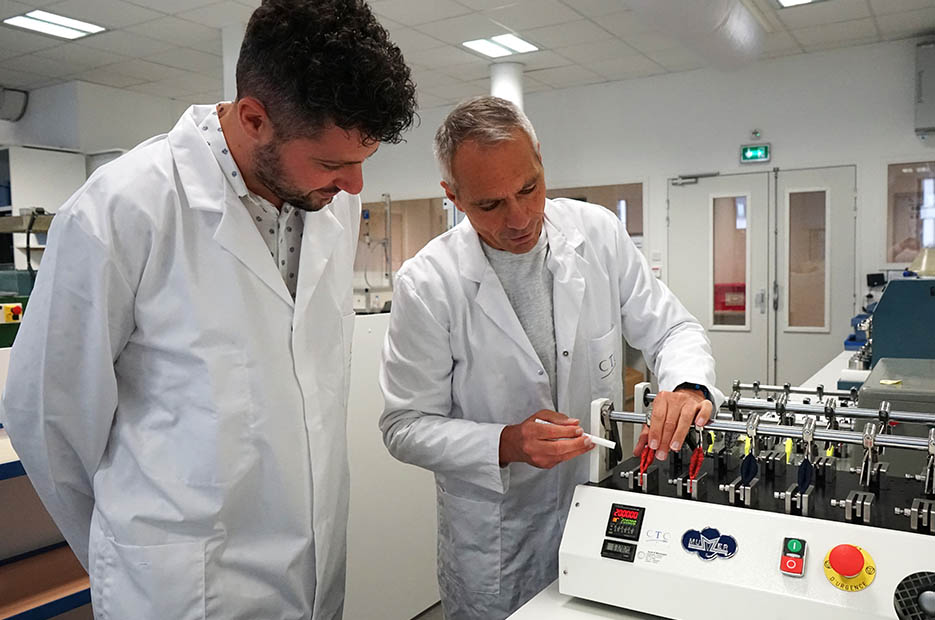 CTC Laboratory approved Program
Laboratory set-up and development
CTC offers a range of laboratory services including set-up, improvement & audit to meet the needs of material suppliers, manufacturers and retailers.
Development of specifications adapted to your needs.
Our areas of expertise: quality management, leather, clothing, PPE (gloves, footwear and clothing), city shoes and sports shoes, leather goods and luggage.

Contact us to define your laboratory needs
Laboratory Management Training
To secure the full understanding of laboratory management under standard EN ISO 17025,
Leading and monitoring a laboratory activity,
To know & understand quality best practices in the laboratory.
Customized training program (intra or inter).
Training in quality management and testing practices in accordance with international standards and with your products.
Approved training centre.
Training and empowering your teams
To secure correct use & understanding of main International standard,
To optimize samples and specimens' preparation,
To secure Know how & raw data exploitation,
Also available: customized training program complying with training in quality management and testing techniques in accordance with international standards and with your products.

Contact us for more infos on training
Calibration of your measurement and testing equipment
Your laboratory is running with many tools that shall be calibrated to secure your daily testing results.
Don't wait, secure your work within only 3 supportive steps :
Share your equipments or specific uncontrol tools list that may impact your daily testing activity with us

CTC Expert team will immediately build key critical calibration plan per level of priority.

Upon your priority the final calibration plan is set immediately & our technician will schedule your customized onsite support plan

Contact us and let's set your calibration plan
Laboratory audit
CTC global quality assurance solutions comprise a range of laboratory services to help establish and maintain efficient in-house laboratories.
CTC will assess current laboratory set-up based on the ISO 17025 international standard. Our team of experts will make recommendations to assist laboratory staff in defining the accreditation scope, formulating a quality manual and implementing procedures which will meet the requirements of the standard.
Once these procedures are in place, the laboratory is ready for accreditation.
Upon satisfactory implementation of the quality system and the inspection of records and procedures within an agreed time frame, a certificate of compliance will be issued by CTC.

Contact us to plan your Laboratory Audit
Our programs are accredited under test standards and methods
| | | | | | |
| --- | --- | --- | --- | --- | --- |
| ISO | CEN | AFNOR | CE | ASTM | IULTICS |
| | | | | | |
CTC Laboratory expertise in the field of calibration, laboratory audit and training
CTC experts are active contributors to National and International Standardization. They are equipped with a specific set of skills in calibration and backed by their extensive experience in vocational training.
CTC Laboratory services will establish and improve Laboratory efficiency ensuring :
International System of measurement standards.
Knowledge of testing methods and equipment, which enables us to guarantee compliance with the essential requirements to be applied.
Services offered on site or in our calibration laboratory.
Experience & knowhow about large pannel of equipments from up-most tecnological tools to all & old familiar tools we have & can find in our industries !
Assessment based on international standard ISO 17025 in accordance with the objective and the context of your laboratory.
Thanks to our expertise and experience in testing and quality management, we can offer you practical solutions to optimize your laboratory.
Accredited since 1990,
Certified since 1997 (1st center certified in France).
1st certifier of PPE gloves and shoes in Europe,
1st certifier of PPE gloves in Asia,
International offer based on local teams.
Appropriate test methods and realistic performance standards.
Accurate test equipments handled by competent and fully trained staff.
With our services you will have :
Reliable test results
Testing
Physical-Mechanical analyses
Chemical analyses
Standardisation
Calibration
Professional training