Footwear advice, leather fashion, leather goods and gloves consulting: 360 ° vision of your business
Product design, manufacturing, sourcing, industrial methods, all areas where CTC consultants offer concrete avenues for improvement leading to greater efficiency.
Advice & consulting as a service for fashion and leather sector
With more than 100 years of experience in the design, production and testing of leathers, shoes and leather goods, CTC puts at your service, in France and internationally, teams of experts with of long industrial experience.
CTC's strength lies in its ability to offer you global solutions combining:
A field of expertise covering all trades and the challenges of the sector to provide sustainable solutions to your priority questions,
High-performance teaching methods allowing skills to be developed both in production workshops and in purchasing, design and quality control trades.
Advice, an approach based on listening and trust
CTC adopts a partnership-based approach, which is based on proven methodologies. Submit your problem to us: we build the project to set up to bring you the solution integrating your priorities, planning and budget constraints.
To facilitate the appropriation and sustainability of this solution, as well as its implementation with our experts, we offer various tools.
CTC has developed a range of tools to facilitate the integration into your business of the proposed solutions (calculation of areas, cost price, safety management, etc.).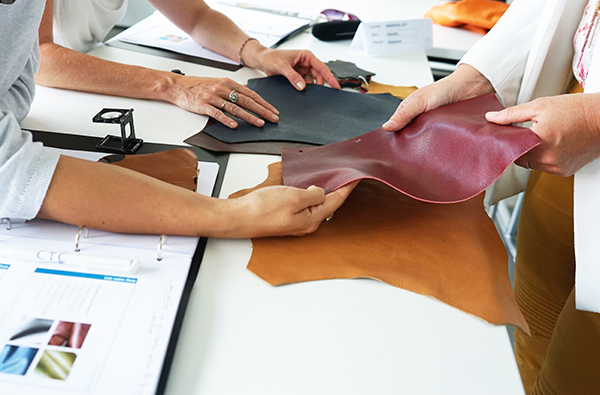 Leather fashion know-how - design advice
Expertise dedicated to the success of your projects
CTC is a technical expert able to provide you with lasting support in your industrial development and product development projects.
We respond to current issues:
Optimization of industrial performance,
Quality management,
Design of new products,
Sustainable development policy,
Skills management.
Unique technological platforms and a network of laboratories at your service
As part of its consulting and training actions, CTC has tools equipped with the most modern technologies.
We offer you:
a tannery platform,
a shoe platform,
a Leather Goods platform,
a Biomechanics laboratory offering unique measurement means,
Laboratories based in France, China and Vietnam.
Solutions adapted to your sector
Independently of its capacity to have a global vision of all the trades and the challenges of the Leather industry, CTC gives itself the means to offer you services perfectly suited to the various trades that make it up.
Tannery (audit and improvement of manufacturing processes, organization, training, etc.),
Footwear (audit, organization, product design, training, quality improvement),
Leather goods (audit, organization, product design, training, quality improvement),
Distribution (audit, product design, quality control, training).
The actions of CTC are, according to your request and their nature, carried out:
In your company,
At the heart of CTC's technological platforms,
In a place of your choice.
Corporate Social Responsibility (CSR)
In a globalized economy, with demanding environmental and social regulations, highly informed consumers and an evolving cost structure, your business must both control its impact on various stakeholders and improve its economic performance.
Contact us for more information